Many conferences give out bags with informational and advertising material, goodies, etc. to the conference participants. This is a good habit that you should probably adopt.
There are three reasons for having bags: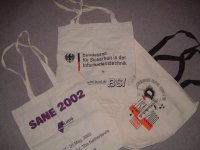 First, you'll have a lot of stuff which you want to give to the participants. This includes, but is not limited to, the conference program and other informations about the conference (such as info about social event, network access, etc.) and the conference proceedings. It is much more convenient for you to pack these bags beforehand and just hand a full bag to each person registering than giving them a bunch of loose stuff.
Second, it is convenient for the conference attendees. They have a bag which they can use for the duration of the conference to carry all their stuff around. Some people won't use it because they prefer their own bag, but many will.
Third, it is a form of advertising. If you have nice bags, people will use them years later carrying around free advertising for you. Also this helps people find each other while the conference is going on, for instance when having breakfast the next morning, they can immediately see who also belongs to the conference, even in a large hotel breakfast room. Also some sponsors like putting their logo on your bag, so in many cases the bags pay for themselves.
What kind of bags?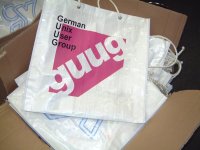 There ara many different types of bags you can use. The range goes from very cheap paper bags, over still reasonably cheap cloth bags to expensive leather executive bags. Bags should probably reflect the fees you ask and the image you want to transport. Paper bags will probably not do for anything your participants pay money for, relatively cheap conferences can go for a cloth bag, and more expensive management type conferences will go for the more sophisticated bags.
You can print your organization or conference name or logo onto any bags. Have a look at companies selling other advertising material like ball pens and bottle openers. They generally also have a line of bags and can do custom silk screen printing or similar on them.
What to put into the bag?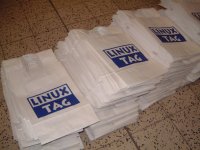 Each bag should at least contain:
A writing pad and a pen. You often will be able to get this from a sponsor. Some conference prefer to have writing pads and pens put on tables in the conference room, you can also do that. But in any case make sure people have something to write on and with.
The conference program/schedule
The conference proceedings (printed or CD/DVD)
Any other information needed about your conference: Information about BoFs, the social event, hotel, travel, lunch/breaks/dinner, exhibition info and booth layout, network access, … Basically all the information a conference attendee might want to know. Generally it is not enough to put this on posters on the wall. People might want to look at this information in their hotel room or while sitting in a session. Some conferences will put this together with the schedule into a little leaflet, but you can also just print it out on several pieces of paper (preferably with several different paper colors for easy access)
Advertising material from your organization and your sponsors. This is a good (and for you cheap) way of thanking your sponsors. Some sponsors will also give special offers to conference participants or want to inform about the price drawing if you visit their booth etc.
Information about the town you are in, including a map, hotel information, public transport, sights, pubs and restaurants in the vicinity etc. Think about what somebody will need, if he is in town for the first time. Many participants will need tips for dinner or evening entertainment options. Some will stay a bit longer in town for sightseeing whilethey wait for their plane back home etc.
Gimmicks. The boom-times are over, where you could come back from a conference loaded with mice and mouse pads, little flashlights, yo-yos and other gimmicks, but occasionally you can still get some of these things for your bags.
The content of the bags is a great opportunity to show participants that you are trying to give them the best experience. In many cases it doesn't cost you anything to put a city map in there, you can get them for freefrom the city tourist office. But it shows participants that you care.
What not to put into bags
Everything that only some of the participants should get, you probably should not put into the bags, but give to participants individually. This includes, of course, the badges and possibly an invoice or payment receipt. If conference participants can book special extras like tutorials, you might want to give that material to them separately.
Also the ever popular T-shirts should probably not be in there because they come in different sizes.