I was at the System Administrators and Network Engineering (SANE) conference last week. This international conference takes place every second year in the Netherlands. SANE is famous for it's great social events and this year was no exception. The Dutch not only know how to work, they also know how to have a great time.
On Thursday, after a long conference day, busses awaited the participants in front of the conference building at the TU Delft. We drove for half an hour or so to the beach. After walking through the dunes for a minute or two we arrived at a beach club, a wooden building/tent thing right on the beach with tables and chairs outside and inside.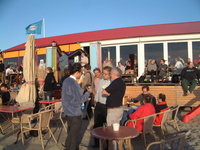 There was a bit of a queue till everybody got his multicolored alcoholic beverage and had settled into a chair somewhere. Little pieces of cheese etc. were served to keep us occupied. Soon the buffet with different grilled meat and fish and other assorted goodies was opened and we could fill our plates. After the real food there was a bonus round of desert later on, too.
There was live music, too, but I prefer talking to the many interesting people instead of listening to music, so I went outside. The day was sunny, but there was a strong wind. We tried playing volleyball with the supplied nets and ball, but it didn't work. But you could sit outside with the wind blowing in your face and watch the kite servers out on the waves. And when you got hungry or thirsty you went inside for a refill.
I had a great time that evening and from what I saw everyone else had too. This will be one of those conferences I won't forget because of the social event. Long after I have forgotten about the content of the talks (which were excellent also) I will remember this beach party.
I must say the organizers have guts to plan it that way, because it could easily have ended in disaster. The Dutch weather is not to be trusted and if everybody had arrived soaking wet and if we couldn't go outside, the mood would have been different. But all went well, so it was worth the risk. (It started raining shortly before we left and when we arrived back in Delft it was pouring rain…)
The lesson for conference organizers, I guess, is this: Even if it is expensive, try to do something out of the ordinary for your social event. It is a major part of any conference.
Photos from SANE 2006 on flickr (from me and others, tag: sane2006).